THE IRANIAN EXPERIENCE
2018 UPDATE
BBC World Service has sent a team to Sarasota to film Robert de Warren in relation to the 50th Anniversary of the inauguration of Tehran's Opera House Roudaki Hall, in which he was closely involved. A special film will be shown on BBC 4 in March and a BBC Persia Farsi short clip, with HIM Farah Pahlavi of Iran is already on YouTube
A three session lecture on this experience will be available at ACE - Suncoast Technical College
For information on this and all Mr. de Warren's activities please visit register for updates:
at RobertdeWarrenDANCE.com
Early in Robert's career as a principal dancer, he was forced to stop dancing due to a physical impairment. Dame Ninette de Valois, leader and founder of the Royal Ballet, where he had spent his formative years, sent him to Tehran at the invitation of the Shah, to bring the National Ballet of Iran up to international standards.
A three year contract became an eleven year sojourn, as he discovered an ancient culture striving for modernity. His life and outlook on dance were changed forever.
HIM FARAH PAHLAVI in Sarasota, Fl. for the premiere of ZAL AND RUDABEH, a three act ballet created by Robert de Warren to a commissioned score by Dr. David Goldstein 2001 at VanWezel Performing Arts Hall
On the occasion of the Bicentennial of the USA - President and Mrs Ford with HIM Shah Mohammad Reza Pahlavi presenting Robert de Warren after a performance in Washington DC
The Shah awarding Robert de Warren the Order of Homayoun
Receiving The Princess Anne at the opening performance of The Mahalli Dancers of Iran at the Sadler's Wells Theatre, London.
HIM Empress Farah receiving Jacqueline de Warren after a performance at Roudaki Hall, Teheran. Intrduced by Nejad Ahmadzadeh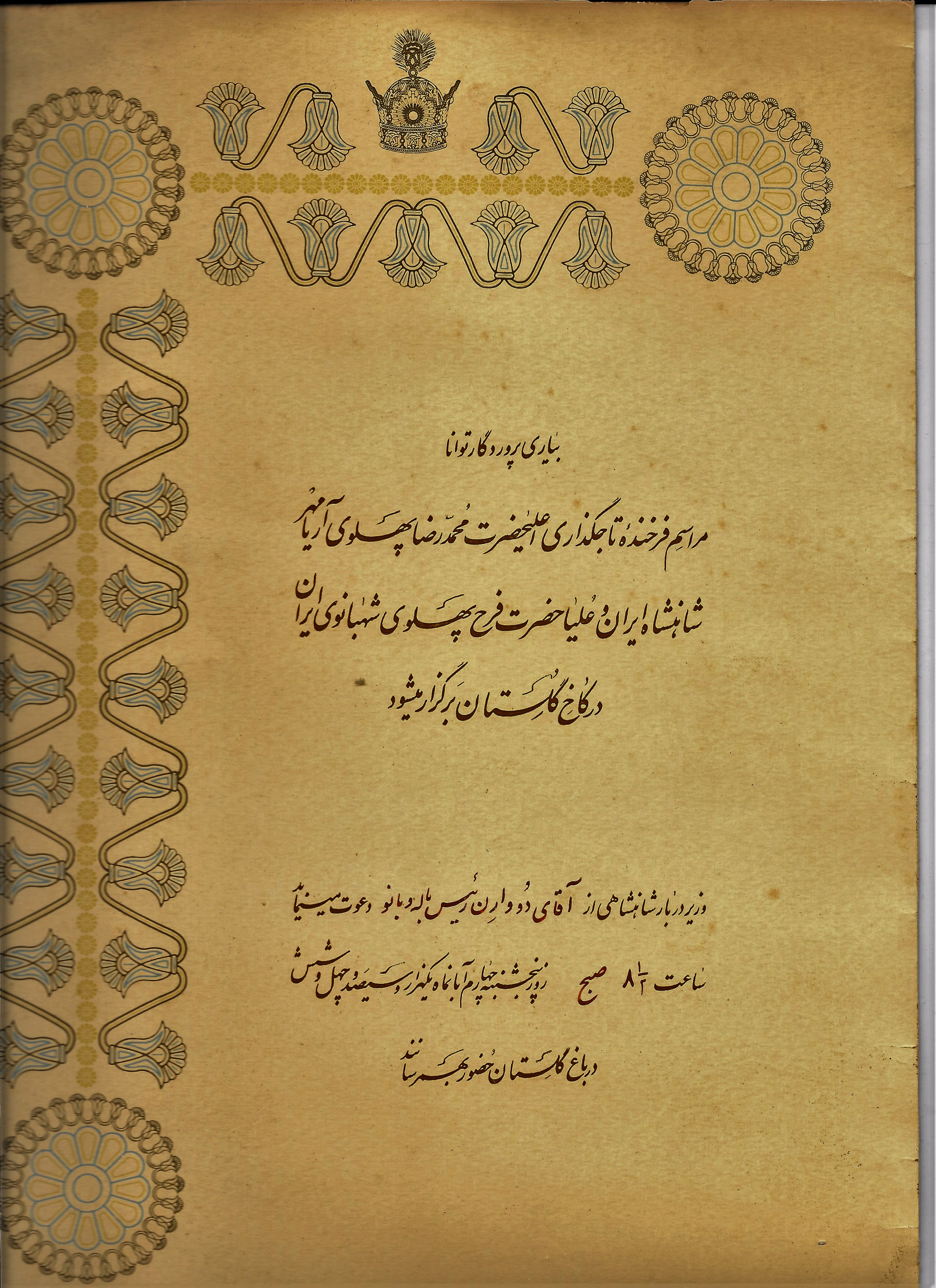 INVITATION TO THE CORONATION OF THE SHAH AND EMPRESS FARAH
TO LEARN MORE ABOUT ROBERT'S IRANIAN EXPERIENCE